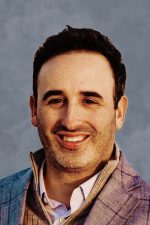 Appalachian Underwriters Inc. (AUI) has hired a new marketing representative to cover part of the Northeast region. The states included are DE, MA, MD, ME, NH, NJ, PA, RI, & VT. Frank Doria is from Long Beach, NY and has been working in the insurance industry for 13 years.

Frank comes into this position with prior insurance sales history. His favorite things from working in the industry are closing on new business, assisting in complex deals, and helping clients. Work also brings in great associations and meeting great people to work with through networking and referrals, but the occasional golf outing is nice as well.

Northeast Regional Sales Manager, Bob Tobin, stated, "I have had the pleasure of working with Frank for many years while he was a front-line producer at Sterling Risk & USI.  His expertise, professionalism, and pleasant demeanor have always made working with Frank an absolute pleasure, and I am quite confident he will enjoy much success in his new role as a NE Marketing Rep for Appalachian Underwriters."

Frank is most thrilled for his new role in, "Collaborating and working towards growing the Northeast Region and achieving goals for a great organization. Every day I wake up there is a new opportunity to accomplish these goals and for that reason I am very excited!"

He is ready to go the extra in assisting agents because from his experience on the production side he speaks agents' language and knows what is most important to them. From handling the submissions with care to ensuring agents have the best opportunity to win new business and retain existing business.

When not working, Frank is an avid fan of New York sports teams from the Yankees and Giants to Rangers and Knicks. Between spending time with his family and playing golf and volleyball, Frank especially loves music, most genres, with a focus on his favorite band, Pearl Jam, who he has seen in concert over 25 times.
About Appalachian Underwriters, Inc.
AUI is a full-service MGA and Wholesale Insurance Brokerage, providing independent agents a national outlet to multiple specialized markets for Workers' Compensation, Commercial Specialty, Life, and Personal Lines of insurance. Appalachian Underwriters is a wholly owned subsidiary of Acrisure. To learn more, please visit www.appund.com.