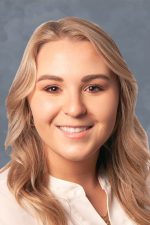 Appalachian Underwriters Inc. (AUI) has hired a new marketing representative to cover the Mid-Atlantic region: North Carolina, South Carolina, and Virginia. Addison Kain, from Burlington, NC, was raised in a family that has always been in the insurance industry. From growing up around agents and underwriters, it only made sense to become a territory representative to bring everything full circle.
Addison recently graduated from the University of Tennessee Knoxville and was previously employed as a Sales and Marketing Assistant. Now she is ready to take on her new territory and meet the agents within these states. Addison stated, "In the short couple of weeks that I have been at AUI, my favorite experiences have been attending the marketing summit, meeting all of the marketing reps, and meeting everyone in the Oak Ridge and Burlington offices. I have also enjoyed going on agency visits and meeting new agents every day!"
Zach Blaetz, AUI's Director of Sales said, "We are very pleased to add Addison to the team! She will do a great job representing Appalachian Underwriters in the Mid-Atlantic."
She is ready to introduce herself to all the agents in her territory and help them with any of their questions. Addison strives to do her best and encourages agents to just reach out for assistance.
When not at work Addison enjoys time with her friends, family, and especially her puppy, Finn. She is an avid reader and loves to hike, go to concerts, and cook.
About Appalachian Underwriters, Inc.
AUI is a full-service MGA and Wholesale Insurance Brokerage, providing independent agents a national outlet to multiple specialized markets for Workers' Compensation, Commercial Specialty, Life, and Personal Lines of insurance. Appalachian Underwriters is a wholly owned subsidiary of Acrisure. To learn more, please visit www.appund.com.